Just the Right Amount of Support
A cozy and spacious lake cottage, combined with a highly-trained and friendly staff, makes the Cottages at Martin Lake the perfect assisted living memory care option.
Anna, a registered nurse, and her staff have all of your health needs covered. Around the clock. No hidden fees or extras to worry about. Our residents deserve the very best and we deliver.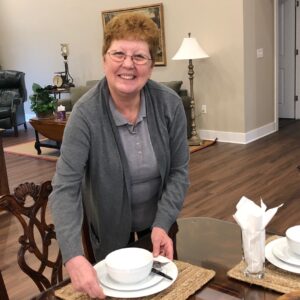 Medical Needs and Medication Management
Home health care physicians, nurses, and certified nursing assistants are available for those residents who do not wish to keep their own physicians. Occupational therapy, physical therapy, speech therapy, and x-rays will also be available as needed. (These services are coordinated through the home and the resident's health insurance.)
Medications are managed by staff to ensure residents have the medications they need, when they need it, at the proper dosages, as well as assessing for unwanted side effects.
Our residents are cared for with gentleness and dignity through intentional activities designed by a Certified Dementia Practitioner. Our mission is to provide exceptional care designed to promote optimal health for the body, mind, and soul while offering comfort, dignity, and enjoyment. A low 3:1 staff to resident ratio allows us to provide individualized and dedicated care.
Families are encouraged to visit the residents and we've established common areas inside and out to play and catch up with loved ones. Planned family activities are hosted by the staff. With advance notice, you may join your loved one for a delicious meal.
A Registered Nurse will visit weekly with residents to assess for changes requiring any follow-up attention. Family members can request a status report on their loved one at anytime.
Wellness and Entertainment
The Cottages at Martin Lake will provide many opportunities for wellness and entertainment including exercise equipment, walking paths, picnic tables, community garden, puzzle table, pool table, lawn games, pontoon boat rides and more.
Each suite is equipped for television and WIFI, has individual climate control, has a view to the lake, and security measures to provide around the clock safety.
Daily healthy meals are provided with individualization for personal needs and preferences. While advance notice is required, family members are always welcome to dine with their loved ones.
The Cottages at Martin Lake will also have planned baking days for those residents who would like to get creative in the kitchen.
All laundry is done in the home. Each resident's laundry is done separately.
Assistance with personal care is available if needed.
Transportation is available for residents to local shopping, medical and dental appointments, and worship services.
The residents' suites will be cleaned daily and weekly.
All-inclusive pricing means you don't have to worry about activities, meals, medication management, or family visits. You have full access to all of our services and amenities around the clock, when you need them.
We're sure you'll have questions and concerns. We're here to walk you through all of that, so give us a call today.  In the meantime, our FAQs might answer some of your questions. Click on the button to read more.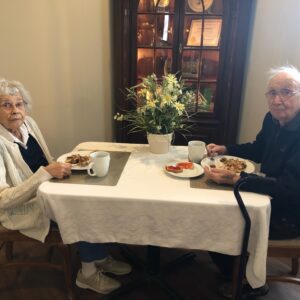 2021 Best Of Senior Living Award!
We're proud to announce we've been honored as a SeniorAdvisor.com 2021 Best of Senior Living award winner by A Place for Mom! This year has been tough for so many and «Community» has shown its resilience in the face of this challenge.
Top reviews from our residents and their families showcase outstanding care provided by our staff to keep our seniors feeling safe, healthy and happy. This exclusive designation honors only the top 3% of senior care providers across the United States and Canada so we're thrilled to be on this list.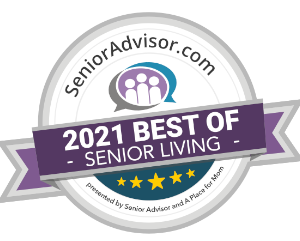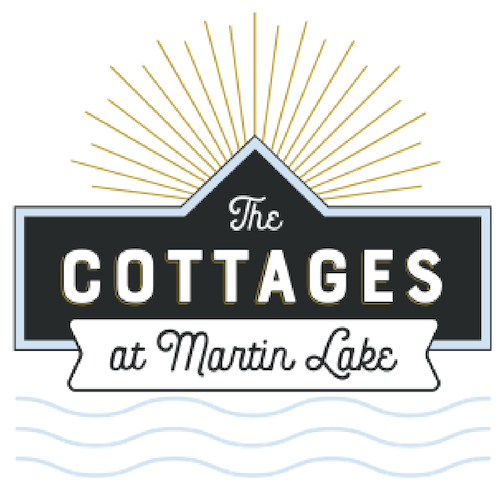 We'd love to have you visit! In the meantime, you can take a virtual tour with these images and video.  Or follow us on social for the latest updates!
follow us for the latest news